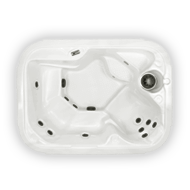 Click to Enlarge
The Quartet Value Spa
The Quartet offers seating for 4 bathers. the convertible 240v/115v electronics make it perfect for a cabin or vacation property.
quartet 312 specifications
Seating Capacity
4 adults
Dimensions
80" x 60" x 35" H / 203cm x 152m x 89cm H
Water Capacity
200 gallons / 760 litres
Weight
550 lbs./250 kg dry; 2,300 lbs./1,045 kg filled
(All dimensions weight and volumes are approx.)
Standard Ultimate Luxury Features

• 12 Powerful Therapeutic jets
• 1x 1hp jet Pump 115v
• Digital Spa Pack with 4kw Heater
• Multi Layered, Full Cavity Roxul insulation
• Marine Grade 4" x 2" Tapered Vinyl Cover
• Multi Colour LED Light

Spa Interior Colours (Custom Colours Are Available)
Silver Marble / Sterling
Cabinet Exterior Colours
Teak Grey
Standard Spa Cover Colours (Custom Colours Are Available)
Teak Grey
For more information about the H2O Spas please contact us at 604.946.1077 or email us at info@h2ospas.ca, our customer service representatives will get back to you in a timely fashion.