Looking for a perfect spa experience that guarantees comfort, relaxation and privacy in a single go? Choose our premium selection of spa enclosures for added functionality and complete satisfaction. Engineered to perfection with state-of-the-art technology and impeccable craftsmanship, our spa enclosures are a perfect cover to keep your spa experience intimate and relaxing.
COVANAS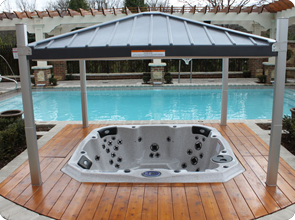 Built for optimal performance and maximum durability, the Covana is a spa cover designed for premium protection and a worry-free spa experience for years. If you thought it was increasingly tiresome to lift a heavy spa cover every time you were in a mood to relax and unwind, the Covana is the perfect solution for you! The mechanism of the Covana is similar to the operation of a garage door, and the minimal wear and tear involved in use enhances its durability. Fully automated, the Covana only requires a turn of a key to unlock and unleash a perfect spa experience within the comfort of your home. Ideally suited for handicapped individuals and senior citizens, the Covana also comes with an added sense of security and safety that no other alternative can match. Keep your spa child-friendly and secure throughout the year with the lock feature. Enjoy the scintillating and relaxing effects of hydrotherapy at home and the protective shade will keep you covered in all kinds of weather conditions.
GAZEBOS
For those who like a more natural feel for their personal spa or hot tub, our intricate line of gazebos are a perfect option. Easy to assemble with beautiful designs and superb craftsmanship, these gazebos can become the highlight of any backyard center and provide the unique ambience that you are looking for. Built with quality materials using only the best manufacturing techniques; choose our gazebos to bring unmatched perfection and convenience to your hot tub enclosure.

For more information about the H2O Spas please contact us at 604.946.1077 or email us at info@h2ospas.ca, our customer service representatives will get back to you in a timely fashion.