H2O Spas – DESIGN FEATURES
Our body sculptured seating designs and innovative engineering; provide exciting yet energy efficient spas that lead the industry in comfort and performance.
* Discover some of our top design features below.
Sure Tread
Entry Steps
Stepping into the H2o spa is made easy with the convenient non slip entry steps. Molded within each model, these steps provide safe and sure footed entry/ exit of your spa.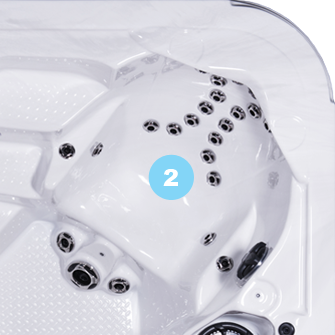 Arm Chair
Comfort
Strategic placement of the spa filter allows all four corners of the spa to be utilized as body contoured seats. Ergonomically placed arm rests, sculptured within each seat, cradle your body offering maximum body support and comfort.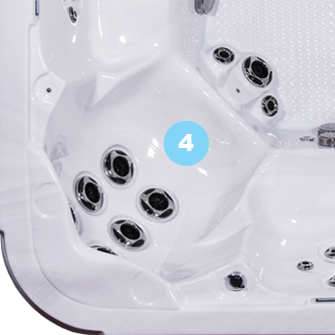 Variable Height
Seating
Each PREMIUM spa model measures 40" tall, the deepest in the industry. This allows your upper body to be fully immersed in the warm therapeutic water, a feature essential to year-round spa enjoyment. The variable height seating accommodates people of all sizes while still giving sufficient depth for comfortable leg position.
No Touch
Foot Space
A Spacious deep floor area allows the spa occupants to move freely from seat to seat, providing each occupant maximum personal leg room. Foot interference is minimal, a comfort truly appreciated when each seat within the spa is occupied.

For more information about the H2O Spas please contact us at 604.946.1077 or email us at info@h2ospas.ca, our customer service representatives will get back to you in a timely fashion.