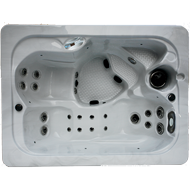 Click to Enlarge
Tofino Spa
The Tofino spa offers seating for 2-3 bathers. It is ideal when space is limited. The design offers small dimensions with big therapy benefits, making it perfect for couples sharing intimate relaxation.
Tofino 20L Specifications
Seating Capacity
2 adults
Dimensions
80" x 60" x 35" H / 203cm x 152cm x 89cm H
Water Capacity
175 gallons / 650 litres
Weight
550 lbs./250 kg dry; 2,300 lbs./1,045 kg filled
(All dimensions weight and volumes are approx.)
Standard Features

• 20 Therapeutic Stainless jets
• 1 x 3hp High Volume Pump
• Gecko IN.YE Spa Pack with 4kw Heater
• Full Roxul insulation
• Marine Grade 4.5" x 2.5" Tapered Vinyl Cover
• Multi Colour LED Light

Standard Packages

• Massage Jetting Package
• Efficiency Package
• Ambiance Package

Spa Interior Colours > Click Swatches for larger view
Silver Marble / Sterling Oyster Opal Storm Cloud
Mediterranean Sunset / Tuscan Sun
Optional Cabinet Exterior Colours
Walnut Charcoal
Standard Spa Cover Colours (Custom Colours Are Available)
Walnut Charcoal

For more information about the H2O Spas please contact us at 604.946.1077 or email us at [email protected], our customer service representatives will get back to you in a timely fashion.